Capstone course seeks to inspire humanitarian-focused engineers through arts-informed practice
April 4, 2019
UNIVERSITY PARK, Pa. - The senior capstone design course is a culminating experience for undergraduate seniors in the Penn State College of Engineering, where interdisciplinary teams take an idea from concept to reality. By fusing their academic knowledge and experiences to tackle a real-world problem, the students prepare themselves as the next generation of engineers.
"When these students graduate, they will be engineers who are also human beings with the responsibility to make a positive difference in the world," explained Zoubeida Ounaies, professor of mechanical engineering and associate head for administration.
To help emphasize this message, a special section of the senior capstone design course in the Department of Mechanical Engineering (ME) seeks to imbue an altruistic purpose to the capstone project.
In collaboration with B. Stephen Carpenter, II, interim director of the School of Visual Arts and professor of art education and African American studies, Ounaies created a humanitarian-focused offering, which launched its pilot program this spring.
Of the five teams assembled in the course, four are pursuing projects related to the global water crisis. Around the world, silver nanoparticle-enhanced, point-of-use ceramic water filters are often used to address this pressing concern. The needed manufacturing tools can often be found in communities in need and local materials such as clay can be used through affordable, appropriate technology.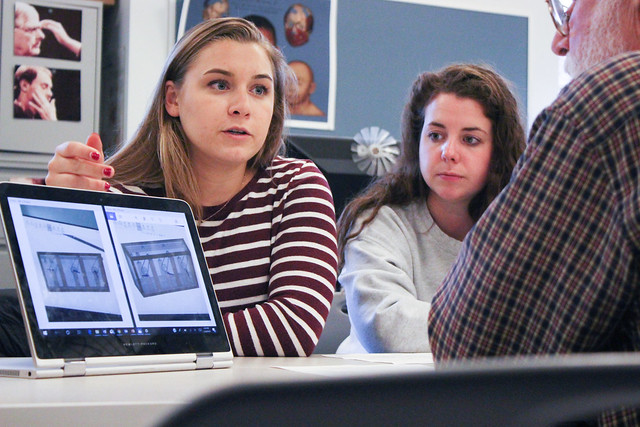 While the tools to establish facilities to produce water filters can be found in communities of need, sourcing and testing local materials can take time. The student-led projects in this course aim to build upon this technology to filter water more efficiently and affordably, as well as design and create the manufacturing tools needed to create these life-saving water filters, all in a travel-ready package.
Carpenter explained, "Together, the work they're doing can collapse, be put in a suitcase or carry-on luggage, and taken anywhere in the world where it's needed."
"Most of the people who need these [ceramic water filters] don't have many resources. It's expensive and difficult to drag say, a clay mixer, somewhere in the world," he said. "Instead of relying on a 700-pound machine, one project team is creating a clay mixer that can be transported easily."
Last but not least, the fifth group is creating an interactive education exhibit to inspire and educate elementary students. Working with local teachers in the State College Area School District, this project seeks to translate conceptual and experimental knowledge into instructional and curricular research materials and experiences in support of the existing science curriculum.
"It will help elementary students learn about engineering principles and how they can be applied to humanitarian causes, while challenging our students to wrestle with these concepts and be able to translate them effectively to a seven-year-old," Ounaies said.
These projects are currently in a pre-alpha stage, where the students are soliciting feedback from their instructors, invited faculty members, and graduate students in the College of Engineering and the College of Arts and Architecture. Another facet of the course, an emphasis on arts-informed practice, is inspiring the students to think holistically about their engineering design at every stage of the project.
"We are pushing back on the idea that engineering is only comprised of dry, practical aspects," Ounaies said. "In these projects, the students are considering everything: humanitarian applications, cultural concerns, and aesthetics of the design."
The class also boasts a large number of underrepresented groups in engineering, including women. "In this class, we wanted to represent diversity in many ways," Ounaies said. "Not only with gender and ethnicity, but also by gathering students from different engineering disciplines to look at ways to address these issues."
After the semester ends, Ounaies and Carpenter hope the students will carry the experience with them in their future endeavors.
"This project really helps them think about what it means to be a responsible, engaged, ethical person in the world who applies their knowledge to the common good," Carpenter said. "It's like Wonder Woman or Black Panther – these students can be the engineering super friends, using their power for good!"
This special section is also supported by Karen Thole, distinguished professor and department head of mechanical engineering, Matt Parkinson, professor in the School of Engineering Design, Technology and Professional Programs, Engineering Design, mechanical engineering, and industrial and manufacturing Engineering, and Eric Marsh, Glenn Professor of Engineering Education and associate head for undergraduate programs in mechanical engineering.
MEDIA CONTACT:
Erin Cassidy Hendrick, emc5045@psu.edu