Engineering to benefit humanity: Student looks to developing nations
September 10, 2018
UNIVERSITY PARK, Pa. – Birgitt Boschitsch has earned many titles – mechanical engineer, Penn State doctoral student, bourgeoning entrepreneur. But no matter how she's using her talents, she always remembers why she pursued engineering.
"Day-to-day, I get to work on interesting technological problems," she said. "But there's also a long term societal impact that engineers can have, which is ultimately solving problems for people around the world."
Through her research, Boschitsch hopes that she can make an impact far beyond the walls of the Penn State Department of Mechanical and Nuclear Engineering (MNE).
"Creating something that can address a global need or be implemented in a developing country, that is what really excites me," she said. Having received a prestigious National Science Foundation Graduate Research Fellowship, she is already tenaciously pursuing this goal.
Her research, housed in the Wong Laboratory for Nature Inspired Engineering, has been focused on creating innovative membranes. "Conventional membranes allow small particles to pass through and large ones to stay behind, like a sieve," she said. "But I've been developing a membrane that does the opposite."
"It's a reverse filter," she explained. "Anytime you want to have small particles retained and large objects pass through, that's a solution that we don't have right now."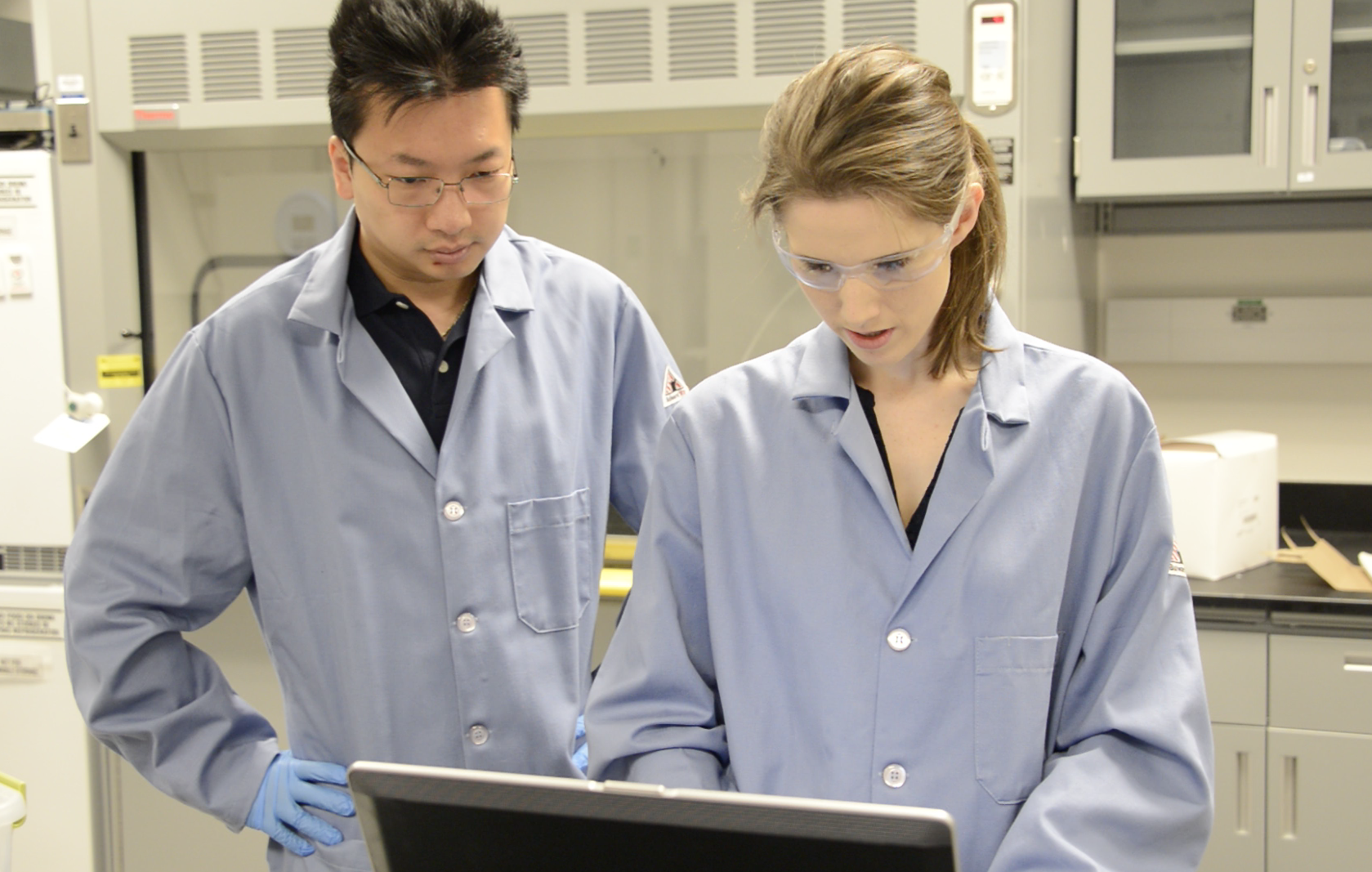 Her advisor, Tak-Sing Wong, the Wormley Family Early Career Professor in MNE, said of her work, "It's truly mind-blowing, and it will enable a number of applications that were previously unachievable using conventional filtration mechanisms."
Although the applications are endless, Boschitsch is particularly interested in applying this technology to solve problems that developing regions face every day. "One billion people in the world still openly defecate. There are a lot of reasons for this, but one is because latrines smell bad," she said.
But if these facilities were equipped with her technology, it would allow human waste to reach the toilet while trapping the small odor particles within. "This could help address problems related to foul odors," she said.
Another could be in surgery in developing nations. Without access to clean operating rooms, surgeons may be wary of performing surgery due to a higher possibility of contamination. However, by applying this membrane onto an area where someone is receiving medical treatments, Boschitsch said, "A liquid membrane could allow medical devices to pass through while keeping contamination out. With further development our membranes could be a valuable tool in medical applications such as surgery."
Wong added, "This is a scenario that only occurs in science fiction, but Birgitt's membrane could make this all possible! I know Birgitt is a very bright and talented individual, but what impresses me the most is her strong desire to help people."
She has already been recognized by the Penn State Alumni Association for this research, which awarded her the Dissertation Award and Distinguished Doctoral Scholar Medal. In the fall of 2017, Boschitsch was also awarded the Materials Research Society Graduate Student Gold Award and the Nowick Award for her research and mentoring accomplishments.
However, her passion for helping people won't end in the lab. Boschitsch plans to bring these innovations to where they're needed. To do so, she's cultivating her entrepreneurial spirit with her research group as they commercialize a project created by Jing Wang, a fellow doctoral student in the Wong Laboratory. Wang created a liquid-entrenched smooth surface (LESS) coating that can be applied to toilets to dramatically reduce the need for water.
In areas around the world, the devastating impacts of water scarcity are amplified by the need to use their resources for sewage. Boschitsch said, "I see this project as an opportunity to make an impact with water-less toilets that could help improve the quality of life in those developing regions."
Boschitsch and her colleagues were recently awarded the grand prize in the 2018 Allegheny Cleantech University Prize Competition, sponsored by the U.S. Department of Energy.
Wong believes she has the potential to make a significant impact. "Her drive to make the world a better place will guide her to create new technological innovations that will impact people's lives," he said. "I can see her becoming a successful entrepreneur that brings a technology to fruition, or leading her own research laboratory to create novel solutions to grand challenges in engineering."
Never losing sight of those goals, Boschitsch always keeps the impacts of engineering forefront in her mind. "As engineers, we often only focus on figuring what to make and how to make it," she said. "But I'd encourage all engineers to also figure out why we're making it."
MEDIA CONTACT:
Erin Cassidy Hendrick
emc5045@engr.psu.edu